Step 6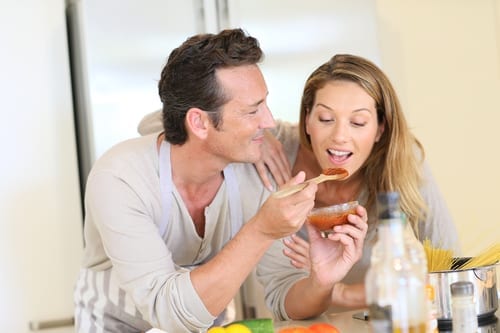 A Delicious Meal
Let's face it, food is an essential element for all great dates.
A great meal has the ability to, not only satisfy the belly, but satisfy the soul.
For any date, you definitely want to think thru what kind of meal you want to have.   With a stay-at-home date you definitely have some options.
You could prepare a delicious meal ahead of time for your spouse.   You could choose to make the date a time when you prepare a meal together.  Spending time in the kitchen is a great opportunity for you to catch up on conversation and to try out a new recipe or type of food.
Or you could do what I do, order take-out.   Since I am only an amateur,  at best, in the kitchen and my husband doesn't even know how to boil noodles, I would much rather let someone else do the hard work for me.
Usually we use our stay-at-home date nights as an opportunity to try some new food.  To order from someplace we don't get to frequent.  We like to step up the take out and order from a nice restaurant, not our usual Taco Bell.
I have recently discovered a new website called DoorDash.   https://www.doordash.com
This is a relatively new service that connects restaurants in your area with drivers who will deliver to your door.
Now, this is not your normal pizza delivery.  We are talking food delivered from high end restaurants to local diners.
Get amazing restaurant quality food, delivered to your door!  You will find DoorDash isn't yet in all areas, but hopefully it is in yours.  It's awesome!
Check out the next essential for date night!