Step 5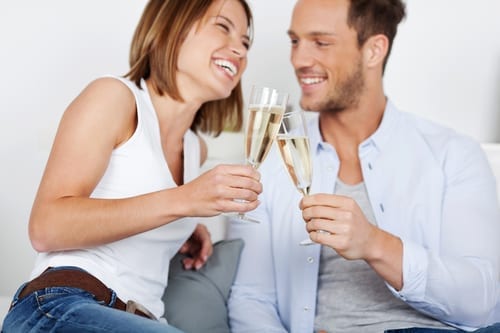 A Great Beverage
Neither my husband nor I have ever been drinkers.  Aside from occasional pina coladas when we are on vacation, alcohol was never really a thought.
I do have to admit though, recently, I have become a fan of sparkling sweet wines.  There is something so incredibly relaxing and yummy about them.
I usually have a bottle chilling in my fridge for us to crack open on our stay at home date nights.  For me, a glass of wine can set the stage perfectly for a romantic evening.
I still don't like most wines, but I am beginning to venture out and try a little variety.
I recently started thinking that it would be fun to belong to a wine of the month club.  I love the idea of trying different flavors while learning about the type of wine and where they come from.
With the Wine of the Month Club you can have wine delivered, monthly, bi-monthly or even quarterly for a really reasonable price.   Besides, I would rather allow someone who knows what they are doing pick a wine for me then trust my judgement of wines in the grocery aisle.
http://www.wineofthemonthclub.com/
Whether it's wine, a cocktail, soda or your sweetie's favorite drink, make sure you have thought thru what beverages you want to have available and be sure to have them chilled and ready.
Check out the next step to the perfect date night.  Every date needs this!