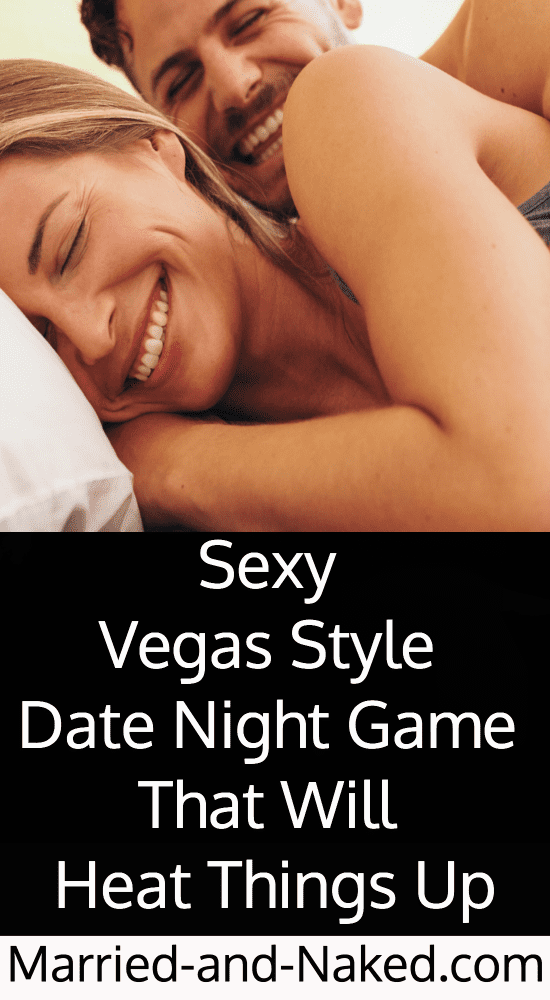 Recently my husband and I spent the weekend in Las Vegas to celebrate our wedding anniversary.
I know what you are thinking: expensive shows, gambling, drinking, and endless other forms of indulgence.
Not this time.  This time Vegas was more about just getting away and having quiet one-on-one time, rather than taking part in the  excess of Sin City.
We spent most of the time floating in the lazy river at the hotel pool or watching movies back in the room.
We are definitely home bodies not partiers.
But, being in Las Vegas got me thinking . . .
We are here in the city of sexiness and self-indulgence.  If we don't want to go out and hit the town, then maybe we could bring some of the Vegas heat to our hotel room.
So, I cooked up a plan for a super sexy and oh so fun Vegas style game (with a twist) that we could play in the comfort and privacy of our own room.
And, the best part is, you can play this game on any stay-at-home date night and create a memory neither of you will soon forget.
But, before I tell you all about it, be sure to check out my 4 Date Night Rules.  These rules will help you ensure that every date night is fun, light and full of connection and intimacy.
Want to know what those important rules are?
Click Here! and I'll e-mail them to you right away!
Now that you have the tools that you need to have a date night that is fun, sexy and reconnecting here is the ultimate
Vegas Style Sexy Date-Night Game.
Click next to find out what game we played. (Warning, I try to keep things very tasteful, but if these things make you easily blush than this game might not be for you.  Looking to heat things up in the bedroom? You have come to the right place.)

(Visited 70,346 times, 38 visits today)