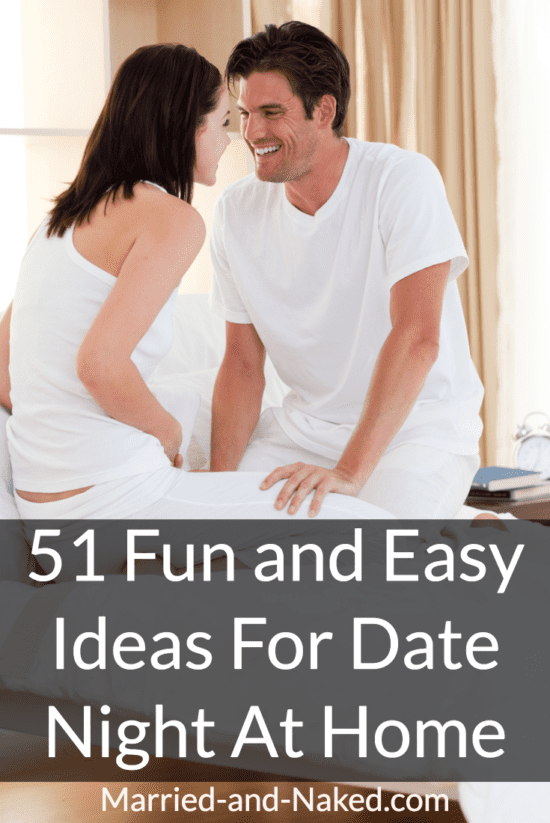 51 Fun And Easy Ideas For Date Night At Home
{this post contains affiliate links}
It is something so simple, and yet something so easily overlooked.
Date Night!
It seems that no matter how many good intentions husband and I have,  we put off date night far too often.

Why?
Usually there are two reasons (maybe you can relate):
Number 1 : Time
Number 2:  Getting someone to watch the kids
That's is why we have fallen in love with date night at home.  They are cheaper and far more convenient than having to go out.
And, actually, they are often way more fun.
The only problem with date nights at home is deciding what to do that will make it as special as going out.
So, I have done some research and pulled together some of the best Ideas For Date Night At Home and put them together for you (and for me) to have for the next time date night rolls around.
(By the way, I've put all of these ideas together in FREE printable.  CLICK HERE! and I will send it to your e-mail box right away!)
So here they are:
51 Fun and Easy Ideas for Date Night At Home:
Bake cookies together from scratch

Wine and cheese tasting

Roast marshmallows over the stove

Create a movie on your phone

Make fondue and feed each other

Play video games together

Ask each other 20 fun date night questions (click here to get them)

Rub each others feet

Plan your next vacation

Share a bubble bath

Play strip blackjack (click here for more details)

Read a sexy book out loud together

Make sushi together (look at this adorable sushi kit)
Take a couples quiz (hubby and I have fun with this book)

Play sexy truth or dare (this one is fun)


Build something together

Do a fun science experiment

Make ice cream

Make a fort and tell ghost stories

Play charades

Play "Heads Up" on your phone

Play hide and seek

Have a nerf gun fight

Have a timed lego building contest

Make pizza with homemade dough
Click next to check out 26 more Fun and Easy Ideas for Date Night At Home.

(Visited 18,342 times, 1 visits today)