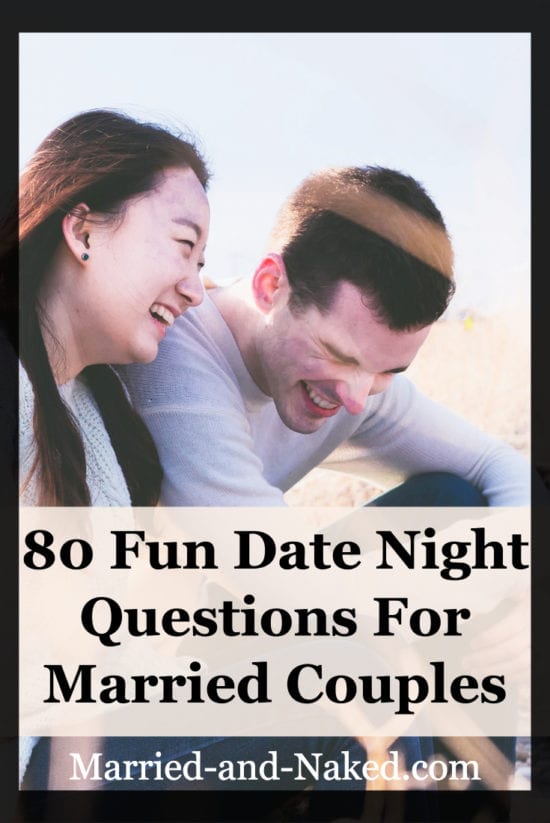 HI There!
I'm so happy that you stopped by to get these Fun Questions For Married Couples On Date Night.

If you are anything like me, you love date night.
But when it comes to date night, there are two problems that most of us can relate to:
 We can't seem to find the time to schedule it.

 When we do schedule it, we want to make sure it counts

.
(By the way, you can get 80 – That's Right . . . 80. . . Fun Date Night Questions by CLICKING HERE.  That's enough to keep you and your sweetie busy for the next 4 date nights!)
These are common challenges that husband and I face too.
But, I'm here to help!
Here's the bad news . . . I can't help you find the time to schedule date night.
That has to fall on you and your spouse.
Get the calendar out and schedule date night right now!  It has been proven that having quality time together on a regular basis can improve the happiness of a marriage.
I can, however, help with number 2.
Not only is it important that you schedule date night, but it is equally important to make sure that date night counts.
Too often we use date night as an excuse to discuss the kids or the finances and we fail to make it quality time.
If you are one of those couples, then I have this to say to you . . .
STOP! 
(sorry I had to be so harsh about that 🙂  but it's super important )
Make sure that date nights count by following my 3 Date Night Rules.
Make date night special.  Put a little bit of time and effort into your plans and into your self.  Get dressed up.  Make a reservation.  Buy flowers.  Treat this date as you would have treated a date before you got married.  Aim to impress.
Make an agreement to not talk about the children, work, money or any other touchy subjects that might plague everyday conversation.
This may sound silly, but it is really important.
Bringing any stressors into the conversation can easily lead your time together down the wrong path.  Keep the date light and fun.
Take advantage of the time and get to know your spouse even better than you think you already do.
Before you were married, you would spend endless hours getting to know each other.  Being married doesn't mean that sense of interest and wonder has to end.
So to aide you and your sweetie in having a great date night full of fun conversation, I have created fun date night questions for married couples with the  Fun Date Night Questions Bundle (click here to get it).
Get 4 separate printables, including 80 different fun date night questions for married couples.
Get these printables and have one with you for your next date night!
It is certain to help keep the conversation light and fun and make for an unforgettable time.
Don't miss this great opportunity to get this date night bundle and make your next date night a huge success!
Click here to get the Fun Date Night Questions Bundle!
Happy date night!
Tammy
Married and Naked
Save
Save
Save
Save
Save
Save
Save
Save
Save
Save
(Visited 2,930 times, 1 visits today)