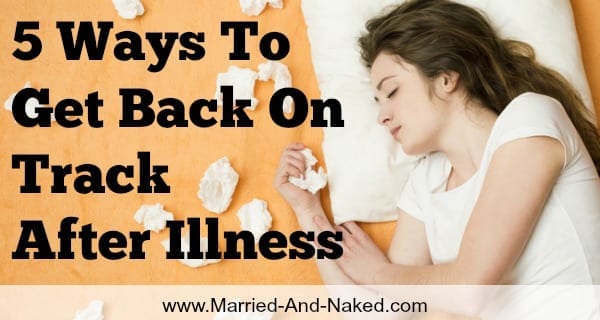 It's another Get Naked Friday, where we take the time to focus on our own health and fitness.   Because, let's face it, self-confidence helps not only yourself but your marriage as well.
As I told you last week, It has been two straight weeks of illness in my house.  If it wasn't a stomach bug it was a head cold.
Needless to say, I am happy to be feeling like a human being again!
One thing is for sure, my health and fitness have taken a back seat during this time.
I haven't felt like cooking so my diet has been terrible and I certainly haven't felt like moving.  The couch, pillow and tv have been my best friends for much of the time.
I have felt frumpy and lumpy and I am ready to start feeling healthy and happy again.
Getting back on track after you have been sick can be a challenge.  Your body has been in recovery mode, so it feels weak.   Your diet is off and therefore motivation to get back to eating well might be off too.
I turned to my wonderful personal trainer, Melissa,  for some tips on getting back on track.  As usual, she offered some great advice.  
Since I assume that I am not the only one who has been sick I thought I would share her advice with you!
Here are 5 ways to help you get your health back on track after you've been sick:
Take Vitamin C Everyday (not just when you are sick)
Melissa recommends taking a daily dose of vitamin C.  Even if you are feeling good.  There have been studies that show that Vitamin C can help reduce the severity of a cold and help prevent complications from it such as pneumonia.  
Beyond helping with a cold, taking regular vitamin C can have a wide range of health benefits.   Vitamin C has been shown to aid in the prevention of cancer, heart disease, high blood pressure, and stroke.  It has also been shown to help prevent cataracts and help people with asthma and diabetes. This is just to name a few of the benefits.
Wow!  I have been missing out!   Check out this article from the Mayo Clinic on vitamin C dosage.
Clean Your Sheets and Blankets
Melissa suggests throwing your sheets in the wash and wiping down door handles, faucets, computers, phones and other frequently used surfaces.  Refresh your living space and clear out those germs.  You get it.  Enough said there.
Drink Lots of Water
Everyone knows that we should be drinking water and lots of it.   During and after being sick is an important time to kick your water consumption into gear.  
Melissa recommends drinking at least a half-gallon of water a day.  I know that is a lot, but the benefits of water are immense.  The most important of which is that it flushes toxins from your body.  
Get back on track by flushing out all the toxins that have built up by being ill and your body will feel re-energized and ready to take on the world again.
Resume Your Fitness Routine Gradually
Before I got sick I was hitting the gym or the concrete 5 times a week.  Right now, getting back to that feels impossible.  
Melissa recommends getting back to your routine gradually over the few weeks following illness.  Don't expect to jump right back into that spin class.  Start by walking during the times you would have normally hit the gym.  The next week, increase the intensity a little and by the third week you will probably be ready to give it your all in the kickboxing class.  
Get back to moving right away, but take it slow initially.  Before you know it, you will be back to sweating profusely and cursing the clock in that spin class.
Continue to Get Sleep
I loved this piece of advice from Melissa.  She says, continue to sleep the same amount of time that you did when you were sick.  
It is a natural tendency to want to sleep when we are sick.  We kick up our hours of shut-eye in order to aid our recovery.  But don't let the fact that you are feeling better be an excuse to go back to your days of sleep deprivation.  
Not only does a restful night improve our energy and our mood, but a regular, good nights sleep also has a slew of other health benefits. One of which is an improved immune system.  Help prevent future illness by getting a consistent 7 – 9 hours of shut-eye every night.
I hope you found these tips helpful.  Thank you to Melissa for this awesome advice! Here's to feeling healthy again and staying that way!
Tammy
Married and Naked
Meet my amazing personal trainer, Melissa Delila Maher. She is a Certified Personal Trainer through the American Council on Exercise (ACE). Has an educational background in Kinesiology, specializes in Men and Women's weight loss, Body sculpting, Children's fitness programs and Prenatal-Postnatal training.
You can learn more about how to live a healthy lifestyle by following Melissa on Instagram @perfectionfitnessstudio
You can also check out her studio and subscribe to her monthly newsletter at http://www.perfectionfitnessrc.com
(Visited 459 times, 3 visits today)