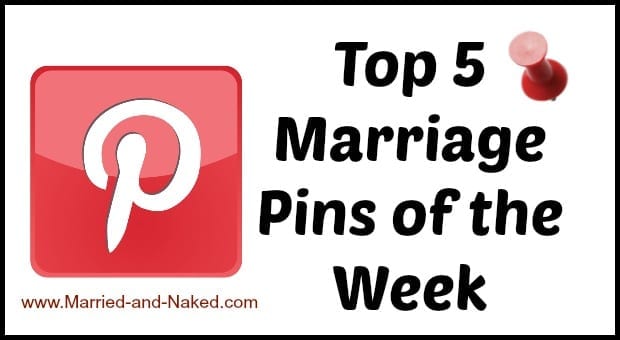 I don't know about you, but I love me some Pinterest.  
Pinterest is truly one of the greatest websites to ever to come around.  
It has given me inspiration for so many things.  From birthday parties, to baby showers, to fitness tips, to great recipes, and so on.  It is a source of constant inspiration.
But, some of the best advice that I have gotten from Pinterest is on how to keep my marriage strong.  There is endless, fantastic, marriage advice, tips and quotes.  
Because I spend so much time on Pinterest, I thought that I would share with you, from time to time, some of my favorite marriage related pins. I hope that you too will find inspiration and helpful advice on how to build, and keep, a long and lasting marriage. 
From the fun to the sexy, here are 5 of the best marriage pins I have discovered this week.
30 Day Relationship Challenge from Pop Sugar  – I totally understand that these lists are often overwhelming.  The idea of having to do something everyday can be a bit much.  However, I think this particular challenge is fun and much more reasonably accomplished than many others.  It offers easy ways to connect with your spouse every day for 30 days.
Even if you don't take on the challenge to complete in 30 days, use this list as a guide to ways that you and your spouse can stay connected regularly.  
10 Simple Tips to Keep It Sexy from Wife, Mom, Superwoman – I love this fun little list of simple ideas of how you can step up your sexy game a bit.  Totally practical and simple tips that every man will appreciate.  No doubt about that!
5 Things I Learned In Marriage Counseling from Singing Through The Rain – I really enjoyed this article.  This had a couple of really great pieces of advice that I am going to begin using in my own marriage.   I especially like number 2 and 3 and will be chatting with hubby about incorporating these two helpful tips in our relationship!  Definitely worth the read.
How to Make Your Own Year of Dates Gift from What's Up Fagans?  – With Valentine's Day quickly approaching I am scrambling to come up with ideas on what to do for Hubby. I literally didn't have a clue until I saw this post.  I really like this idea.  It is sweet, extremely thoughtful and helps take all the guessing out of date nights for the rest of the year.  I love it!!!
Monkey Bread for Two from Sweet As A Cookie – Making dinner for two is not something I get to do very often.  With two kiddos, it is rare that Husband and I are home alone.  But, dessert for two?  Now that sounds perfect.  
There is nothing I like better than curling up on the couch next to my sweetie and savoring something sweet.  This dessert sounds super easy and oh so yummy. Definitely on my "must make" list!
I will keep the pins coming.  If you find a great marriage pin, I would love to hear from you.  Share it with me in the comments below!
For more great marriage related pins, you can follow me at @MarriedAndNaked.     
Tammy
Married and Naked
(Visited 383 times, 1 visits today)