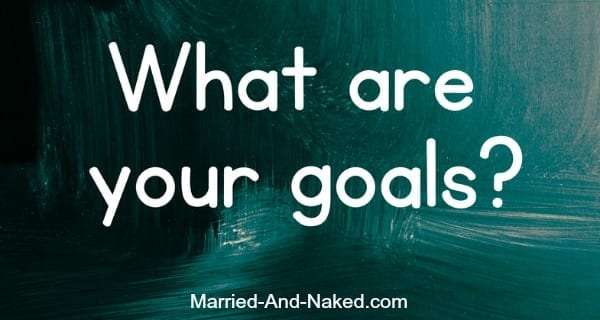 It's Get Naked Friday!  My favorite day of the week.  Because, let's face it, self confidence is what it's all about. 
I have never been a very goal oriented person. I'm not sure why.
I think it has something to do with the fear of  failing.  If I don't put the goal out there, then I can't fail at it.
My husband is completely opposite.  He has been setting annual goals ever since he was a teenager.  And, not only does he set the goals, but he actually works toward achieving them.  
His goals drive him toward attaining his dreams.  It is an impressive sight to watch.
After being with him for 25 years, some of his methods to success have rubbed off on me.
A couple of years ago, I started writing goals too. And, though I am not nearly as driven as he is, I have definitely learned the benefit and power of setting goals and working to achieve them.  
Now, at the beginning of the year I set goals for myself.  I look at the scope of my life, both personally and professionally, and bring to light the areas I want to work on.
There are definitely some useful techniques to use when goal setting, but we will get into those next time.
This week, I just wanted to share with you my health goals.  Because, I am much more likely to work hard toward my goals if I put those goals out there for the world to see.  No turning back now 🙂
Here are my health goals for 2015:
Continue working with my personal trainer at least one day a week.

Run my second 10k.

Run a 5k with my brother.

Eat Clean 80% of the time.

Drop body fat 2%.

Be less judgemental of myself.
That's it.  That is what I will be working on this year.  
Last year I checked off all of my health goals.  It was a great feeling to come to the end of the year and realize that setting goals doesn't set me up for failure. But rather, it empowers me to succeed.  
In 2015 Married and Naked will continue to share with you all of the wonderful tips and tricks that I continue to learn thru my health and fitness journey.   And, I will continue to share with you motivation and inspiration directly from my trainer to you.  
So, if improving your health and feeling better naked is on your to do list this year, then you are in the right place. We are in this together!
Are you setting health goals this year?  What are you working towards? Comment below and let me know!
Tammy
Married and Naked
(Visited 1,139 times, 1 visits today)