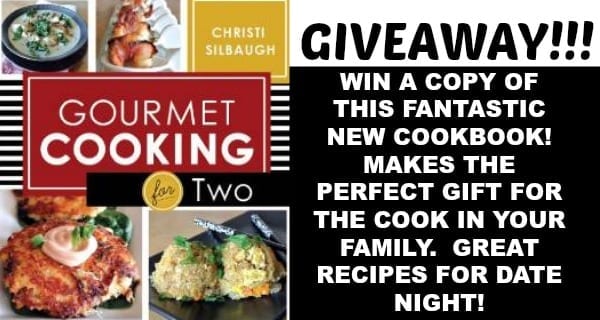 Recently I was contacted by Christi Silbaugh; author, blogger and self educated chef extraordinaire.  She asked me to take a look at her new cookbook, Gourmet Cooking For Two, and give a little review about it.
I told her sure! I love cookbooks and I am always looking for recipes that are romantic and are scaled to make perfect portions for an at home date night with the hubby. 
This book sounded perfect.
Of course, I wouldn't share this review with you if I didn't genuinely like the book.  I truly mean that!
But, guess what? I genuinely like the book.
Christie began cooking gluten-free in 2009, when her daughter was diagnosed with Celiac Disease.  She began documenting  and sharing her recipes online.  What began as a hobby, flourished into a full-time career of writing for her own food blogs as well as contributing to well-known foodie resources like Glam Media.
What I love about Christie is she is so relatable.  She is an everyday woman who wanted to figure out two things.  One, how to downsize portions after her children moved away from home.  And two, how to keep the spark alive in her marriage.   This book is the perfect combination of those two things.
Here is why I think every married couple should get this cookbook:
This book is for every couple.
Whether you are married with children and are looking for date night ideas or you are an empty-nester needing to downsize portions, this book will be a great fit for you. 
I am always on the lookout for great meal ideas for stay at home date nights.  This cookbook has all of the recipes I will need for future romantic meals at home.  From appetizers, to main dishes to desserts, this book has covered it all.

The recipes are manageable even for the average cook.
Don't let the name of this cookbook scare you.  Trust me, I am a sub-par cook.  I am always souring magazines, websites and cookbooks for easy recipes with ingredients that I am familiar with.  This cookbook suits everyone's needs, including my own. From the novice cook to those with extensive kitchen experience, you will find recipes that will suit whatever you are looking for.
A romance tip accompanies every recipe.
This is my favorite part of the book and the special addition that makes this cookbook so uniquely perfect for couples. 
This book is not just about food.  It is about finding ways to stay connected to your spouse.  Each recipe comes paired with a romantic tip to help keep the spark alive in your relationship.
So, if you are looking for yummy recipes for two, and for inspired ways to stay connected to your sweetie, this is the book for you.  Gourmet Dinners for Two, will now have a permanent place among my frequently used cook books.
Wanna win a copy of Gourmet Cooking for Two of your own?  Christi was kind enough to give me a copy to give away to one of my wonderful readers. 
All you have to do is comment below and tell me what you love to cook that makes your sweetie swoon.  One random and lucky winner (chosen by Random.org) will get their very own copy of this fabulous book.   You have until Saturday, December 6th at 11:59 p.m. to comment below to enter.  Winner will be announced by e-mail and on Facebook.  An e-mail address is required when leaving a comment.  Please be sure to leave a valid one so that I can contact you if you win.  E-mail addresses are private and will never be shared.

I have a stay at home date night coming up soon.  What's on the menu?  Christi's Parmesan Dill Sea Bass on page 158 and the Salted Carmel Shortbread Cups on page 252.  I cannot wait!!!

In the meantime, get cooking and get romantic with the wonderful new cookbook, Gourmet Cooking For Two by Christi Silbaugh!   I think you are going to love it!
Tammy
Married and Naked
(Visited 393 times, 1 visits today)