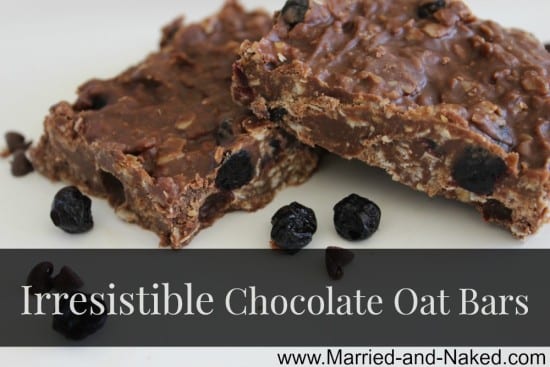 I don't know about you, but I have a serious sweet tooth.
It always comes knocking around 8:30 after the kids have gone to bed.
When trying to be health conscious, a sweet tooth can be a very unwelcome visitor.  So, I went in search of a healthy recipe that would satisfy the sweet tooth and not leave me feeling incredibly guilty.
After a couple of failed attempts I found these chocolate oat bars.

These heavenly, easy to make, bars of deliciousness inspired by the wonderful blog Left On Amelia.

These are fantastic treats made with all natural ingredients that will leave your sweet tooth feeling happy.
But, beware! You may find yourself wanting to eat the whole tray in one fell swoop!  They are that good!

Get Naked Friday – Irresistible Chocolate Oat Bars
Ingredients
1 cup natural peanut butter
2/3 cup local honey
1/2 cup coconut oil
2 cups toasted oats
1 1/4 cups mini chocolate chips
1 cup dried blueberries
Instructions
Toast 2 cups of oats on a cookies sheet in the oven at 350 for about 10 min. Be careful not to let them burn.
In a medium size saucepan, melt peanut butter, honey and coconut oil.
Remove from heat and add oats, chocolate chips and dried blueberries. Stir until combined and chocolate chips are melted.
Spread into a parchment lined 9×13 pan. Refrigerate until hardened, preferably overnight. Store in refrigerator.
https://married-and-naked.com/get-naked-friday-irresistable-chocolate-oat-bars/
Happy Friday!
Tammy
(Visited 194 times, 1 visits today)