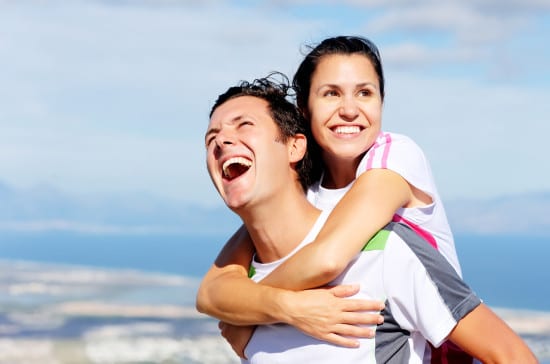 It is all so serious these days.  We are all working so hard trying to juggle all of the challenges that life and children bring, that there is very little time or energy left for fun.   Especially fun in our relationships.
My relationship is like that too.  When I was first married, long before children, husband and I used to play a lot.  We would take long bike rides and play catch in the front yard.  We would have heated games of Scrabble.  He used to make me laugh so hard at the letters that he would try to pass off as words.  Beyond board games we would have wrestling matches to the death…. ok not to the death but to the point that I felt I was going to die from laughing so hard.
Now, it seems, finding the time and desire to play with Husband is a challenge.  
There are so many other things that seem to take priority.  
We have two young kids.  I play a lot with them.  With my children I have no problem pretending I am on a magic carpet ride to Grammy's house or that I am a yellow Lamborghini racing to the finish line.  With my children it is easy.
But, something is wrong with this picture.  It seems completely unfair that all the fun is for the kids. 
The grown ups need to play too!
It's time to lighten up your relationship. Studies show that laughter can lower stress levels, improve mood and help you connect to others, among many other physical and emotional effects.   So, it seems we all could use a little more laughter in our lives.  Here are some ways to play more in your relationships and find your way to more laughable moments.
Play Games:
I think that the power of a good old fashioned game is underrated.  I have laughed so hard playing Uno with my family that I couldn't catch my breath.  A game of Scrabble, Scattergories, Charades, or Speed takes time with my husband to a whole new level of fun.  Up the ante and play Strip Poker or Naked Tag and you have seriously set the bar for a night of fun and laughter.  Guaranteed!
Get Physical:
Get back to the simple joy of wrestling with your sweetie.  Trying to out power my husband has led to some belly busting moments.  Of course, I seem to be pretty powerless when challenged to his strength, but it is always fun to try.  Maybe someday, I will be able to get him in a headlock first.
Watch something funny:
The phrase, "Laughter is the best medicine," is not just a cliche statement.  It is really true. One the heels of a hectic day when I am feeling grumpy, tired and short tempered, there is nothing better  than sitting in front of TV with hubby and turning on one of our favorite sit coms or movies.   Leave some of the reality of life behind and jump into the world of make believe and share some laughs.  Don't like the same TV shows? Try something universal like America's Funniest Home Videos or some funny videos on YouTube.  It is hard to go wrong there. 
Get a little competitive:
Throwing a little friendly competition into a date night can add a lot of playfulness to the evening.  Blow the dust off that stack of cards, dual at online trivia, or head to your local arcade. Before you play, throw out a friendly wager and see where the night takes you.   Winning or loosing could be a win – win.
Get Back to Your Roots:
When you were young laughter came easy. You found joy and humor in the simplest things.  Step back in time and be young again.   Get back to what made you happy when your were a kid.  Play tag, Go roller skating, ride your bike, hit the bowling alley, dance to your favorite song, play miniature golf, or find the nearest laser tag.   Try doing these things along with your spouse and see the laughter double.  
It is reported that the average child laughs 150 times a day but the average adult only laughs about 15 times a day.  So why should our kiddos get all the fun? Being an adult should not be a ticket to cease laughter.  Take heed of our younger counterparts and follow their lead.
Tammy
(Visited 1,144 times, 1 visits today)