Happy Get Naked Friday!!! My favorite day of the week!
Friday is the day when Married and Naked focuses on health and fitness. Because, let's face it, self confidence is what it's all about.
Tomorrow I will be running my 4th 5k. 
For years I had said that I would run a 5k.  Even had a picture of a runner on my vision board.  But I never did.
Two years ago, I ran my first race.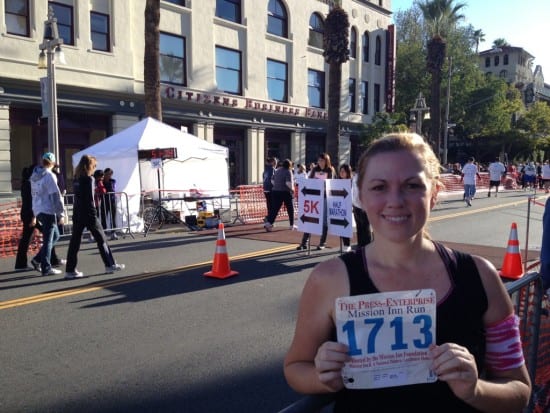 I welled up in tears when the gun went off at the start of the race.
I welled up in tears when I crossed the finish line with my husband and daughter cheering me on.
I was so proud of my self. So proud that I had actually done it. I had finally followed thru and did what I said I was going to do.
Once you've had a little taste of participating in these events, you start to crave more. 
Last year I ran two 5K's.
Tomorrow, I will run another and in November I will run my first 10K.
When I think about the daunting task (for me anyway) of running 6 miles straight, I begin to wonder if it is even possible for me.
Running 3 miles is one thing, but doubling the distance and time? The thought is a little frightening, to tell you the truth.
But, here is what I keep reminding myself every-time I start to get nervous about the 10k.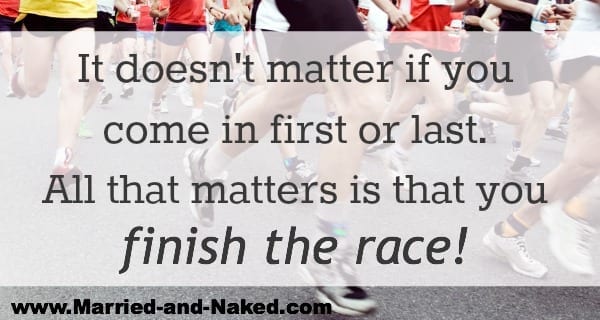 That's all I have to do.
Just finish the race.
That's not so scary. 
Just follow thru with my goals and be proud, when I cross the finish line, that I did.
Wish me luck on my 5K tomorrow.
Anyone want to join me?  Put a 5 or 10k on your calendar.  No more just talking about it.  It's time to tie up those laces and run!
Tammy
Married and Naked
(Visited 364 times, 1 visits today)