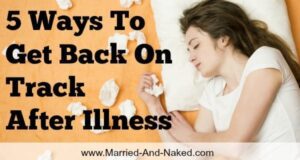 It's another Get Naked Friday, where we take the time to focus on our own health and fitness.   Because, let's face it, self-confidence helps not only yourself but your marriage as well.
As I told you last week, It has been two straight weeks of illness in my house.  If it wasn't a stomach bug it was a head cold.
Needless to say, I am happy to be feeling like a human being again!
One thing is for sure, my health and fitness have taken a back seat during this time.
I haven't felt like cooking so my diet has been terrible and I certainly haven't felt like moving.  The couch, pillow and tv have been my best friends for much of the time.
I have felt frumpy and lumpy and I am ready to start feeling healthy and happy again.
Getting back on track after you have been sick can Read more [...]