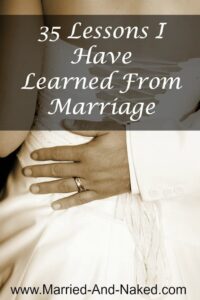 Since I seem to be having a hard time keeping up with blogging with all of the distractions that summertime can bring, I thought I would bring you an oldie but goodie.
I wanted to re-share with you one of my most popular posts.
35 Lessons I have Learned From Marriage
I recently read a blog that asked the question, "What didn't you know about marriage before you got married?"  I thought that was such and interesting question.
What didn't I know?  What have I learned about marriage since being married?
Here are 35 Lessons I have Learned from Marriage:
1. A Happy Marriage is hard work.
2. A man could own more shoes than me.
3. I could fall out of love with my husband.
4. I could fall back in love with my husband over and over again.
5. Hair shavings in the sink could drive Read more [...]