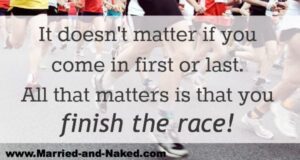 Happy Get Naked Friday!!! My favorite day of the week!
Friday is the day when Married and Naked focuses on health and fitness. Because, let's face it, self confidence is what it's all about.
Tomorrow I will be running my 4th 5k. 
For years I had said that I would run a 5k.  Even had a picture of a runner on my vision board.  But I never did.
Two years ago, I ran my first race.
I welled up in tears when the gun went off at the start of the race.
I welled up in tears when I crossed the finish line with my husband and daughter cheering me on.
I was so proud of my self. So proud that I had actually done it. I had finally followed thru and did what I said I was going to do.
Once you've had a little taste of participating in these events, you start to crave more. 
Last Read more [...]