Step 3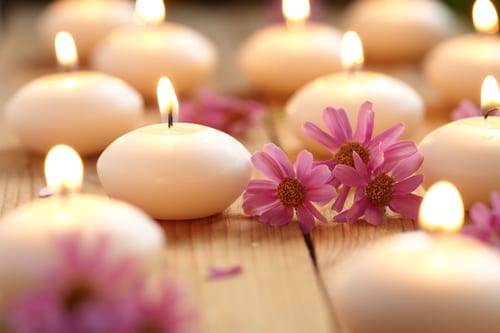 Romantic Lighting
Before the evening even begins, you need to set the romantic stage.
For me that means low lights and candles.  I love candles!
They are the simplest and least expensive way to set a stage for romance.
I have candles lurking in every drawer and cupboard in the house.  They sit nearby and ready for those moments when a little ambiance is called for.
Don't have candles?  No biggie, just dim the lights.  Calm lighting can help you and your spouse feel relaxed.  And it is true, soft lighting  makes everything look better.
Need a few candles to help set the stage?  My favorites are from Flashpoint Candle.  They have a wonderful selection of scents that come in beautiful pottery.  My favorite is the Seaside Sorbet from their Cove collection.
https://www.flashpointcandle.com
Don't forget the next important step to set the stage for date night.